During May 2008 Israelis celebrated the 60th anniversary of their Jewish state, while Palestinians marked six decades of catastrophe or Nakba.
Among all the column inches devoted by the British press to this dual anniversary there was no mention of Birobidjan, the original Jewish homeland, whose 70th anniversary fell in 2004. Interviewed live on Press TV for a panel discussion of Israel's 60th birthday, Lady Renouf exposed the story of Birobidjan, illustrating the fraud inherent in the Zionist project. First alerted to this by James Warner of the CDL Report (PO Box 25, Mandeville, Lousiana, 70470, USA) who graciously provided research material rescued from the New Orleans flood waters, regardless of their differing evaluations of the Classical vs Christian pillars of Western civilisation, Lady Renouf told viewers that:
European Jewry, to promote their powerful imposture of a "Promised Land", demanded their right to pirate Palestine as a Jewish "homeland". This was the sly euphemism Zionist founding father Max Nordau used instead of State "to deceive by its mildness".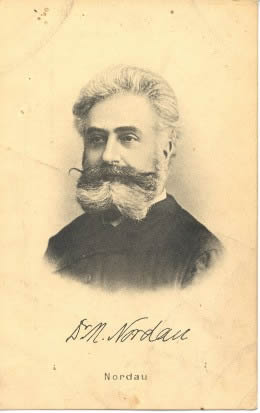 Founding Zionist Max Nordau
Zionists chose not to acknowledge Birobidjan, the voluntary Jewish homeland (supported by American Jewry since 1928) of the Jewish Autonomous Region (on the border of Russia and China). To this day this is a flourishing Jewish homeland - a largely unsung region Lady Renouf makes public on both PRESS TV programmes, which can be viewed by clicking on the programme names:
Fine Print (10th May) and Between the Headlines (15th May)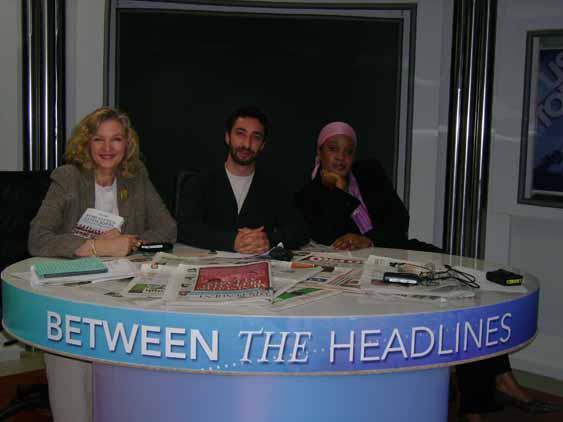 (left to right) Lady Renouf with fellow panellist Joe Mackertich and Between the Headlines presenter Amina Taylor
(For further discussion of these issues Lady Renouf was invited for an interview on TiU Radio which is now in MP3 format: listen to the programme by clicking here. A 1939 booklet by a Jewish author promoting Birobidjan is now online. Please note that this is a 12MB PDF file.)
On the Fine Print panel Lady Renouf's Zionist antagonist was Dmitry Shimelfarb, a former lieutenant in the Israeli Army who is now a political and PR strategist for the Likud party leader and former prime minister Benjamin Netanyahu.
Shimelfarb countered Lady Renouf with the claim that Birobidjan was not a Jewish homeland but a symptom of anti-semitism, a place to which Soviet Jews had been forcibly "exiled" by the dictator Stalin.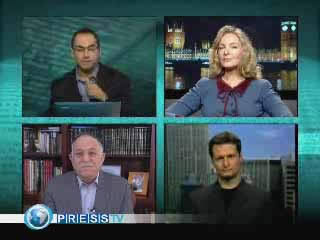 May 2008 Nakba live discussion - clockwise from top left:
Fine Print presenter Amir Arfa, Lady Renouf, Likud political strategist Dmitry Shimelfarb, and Palestinian academic Dr Mahdi Abd el-Hadi
The reality, admitted even by Jewish sources such as the Encyclopedia Judaica, is that Birobidjan was a widely supported initiative to create a Jewish homeland, beginning in 1928 and formalised in 1934.
A large number of Jews took leading roles in the 1917 Russian Revolution, but while these were happy to submerge their Jewish identity into their Bolshevik identity, they recognised that there was a broader problem of how to deal with Russia's Jews.
The last thing the Bolshevik leaders wanted was for their new social experiment to be derailed by further outbreaks of the traditional hostility between Russians and Jews. So early plans to settle Jews in the Ukraine or Crimea were swiftly abandoned, due to adverse reactions from the existing local populations.
The region around Birobidjan by contrast was a large and virtually empty space, and an autonomous Jewish region was created amounting to 36,000 sq. km. This is almost the size of Switzerland (40,000 sq. km) and considerably larger in area than modern Israel (20,000 sq. km).
Far from Jews being forcibly exiled to Birobidjan, there were extensive worldwide efforts to promote this Soviet Jewish homeland project, including 'Ambidjan', the American Birobidjan Committee, whose officials included Albert Einstein and the prominent American Jewish author B.Z. Goldberg.
More than a thousand Jews from outside the Soviet Union emigrated to Birobidjan during the 1930s, though once the Zionist project neared fruition it overshadowed its Stalinist rival.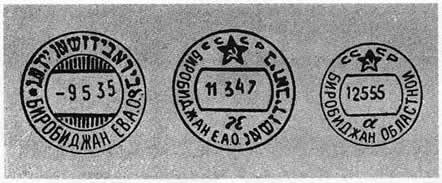 Postmarks from the Birobidjan Jewish Autonomous Region,
dating from 1935, 1947 and 1955
In the post-communist era Birobidjan survives, and remains a Jewish Autonomous Region with Yiddish as an official language. Is this not the obvious solution to the Nakba, Lady Renouf suggests, holding out the prospect of an end to six decades of catastrophe for the Palestinian people? By resettling Jews in the original pre-Israel homeland, Palestine could be restored to its rightful owners, the victims of the 20th century's longest, most notorious and enduring injustice.
An extensive photographic history of the Birobidjan project is online at the Swarthmore College website. The 1939 booklet about Birobidjan by the Jewish author David Bergelson is online here. (This is a 12MB PDF file.)