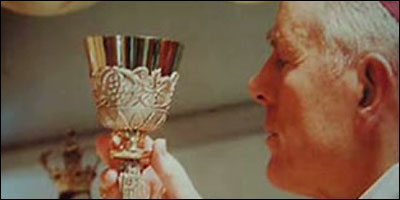 On Ash Wednesday, 22nd February 2012, the courageous British Bishop Richard Williamson won the latest round in the struggle for free source-critical opinion in Europe, when the German appeal court quashed his conviction for "holocaust denial".
Bishop Williamson had been under tremendous pressure from within his church, including the leadership of his traditional Catholic Society of St Pius X (SSPX), to abandon his defence and meekly accept criminalisation, following a prosecution which originated in an interview he gave to a Swedish television journalist in November 2008.
Fifty-five minutes into this interview, which had focused on religious matters as the Bishop had expected, the journalist suddenly sprang the question: "Bishop Williamson, are these your words?" and quoted comments made by the Bishop several years earlier in Canada.
Bishop Williamson had then stated that – on the basis of the historical evidence as he understood it – he did not believe there had been any homicidal gas chambers in Third Reich Germany.  When unexpectedly pursued by the Swedish interviewer, he defended these views, saying:
"I believe that the historical evidence is strongly against, is hugely against six million Jews having been deliberately gassed in gas chambers as a deliberate policy of Adolf Hitler."
The interview was broadcast in January 2009 and became widely available on the internet.  International Jewish organisations orchestrated an outcry, leading to pressure on the Roman Catholic Church from the Chief Rabbinate of Israel.
It is of course legal to hold such views or make Bishop Williamson's comments in Canada, or in Sweden, or in the United Kingdom – but in Germany so-called "holocaust denial" is punishable by up to five years in prison.  Indeed in March 2009 the German lawyer Horst Mahler received the maximum five year prison sentence for such offences, as did the German-Canadian artist and publisher Ernst Zündel in 2007 after being expelled from Canada under an unconstitutional "national security certificate".  German lawyer Sylvia Stoltz was sentenced to three and a half years in prison in 2008, and banned from practising her profession.
A criminal investigation of Bishop Williamson was launched by the German authorities within weeks of the broadcast, and in October 2009 he was fined €12,000 under the German system of "order of punishment", which initially involves no trial but is sometimes accepted by defendants in straightforward cases, such as traffic offences and the like.
The Bishop's initial lawyer Matthias Lossmann had been appointed via the SSPX, and pursued a defeatist strategy which led to his client being convicted following a trial in Regensburg in April 2010, though the fine was reduced to €10,000.
A first appeal was heard in July 2011, again in Regensburg, by which time Bishop Williamson had taken on new lawyers – first Wolfram Nahrath, and later Prof. Edgar Weiler, who represented him at the appeal hearing which I attended.
The outcome of this appeal was to reduce the fine again to €6,500, but the legal arguments introduced by Prof. Weiler have now resulted in the complete throwing out of the charges.
A reading of the documents suggests that Prof. Weiler was successful in challenging the very basis of the charges – namely the essential question of at what point Bishop Williamson had committed an offence.  Was it illegal simply to make these statements in Germany, even behind closed doors, to the Swedish journalist?  Surely this was not a "publication".
Were the prosecutors arguing that Bishop Williamson had intended the comments to be broadcast in Germany, bearing in mind that he was speaking to a Swedish journalist for a Swedish programme?  Or that he had not done enough to prevent that publication?  If so, in what sense?  The broadcast clearly shows Bishop Williamson warning the journalist that such comments are illegal in Germany and that they should not be published there.
The higher court has now agreed that the prosecutors' charges against Bishop Williamson failed to make these matters clear, and that his conviction should therefore be thrown out.
For the time being, the prosecutors are putting a brave face on their defeat, insisting that they intend to bring new, more precisely stated charges.  But by doing so they risk drawing further attention to the dangerous ambiguity of a German legal system which operates by very different standards of free expression from many of its European partners.
Such contradictions led of course to the historic victory in the London courts in 2008, when a European Arrest Warrant against the Australian academic Dr Fredrick Toben, drawn up by German prosecutors was similarly thrown out for reflecting the very vagueness of the law it is based upon, which fails to define terms such as "holocaust" or its unique alleged mass murder weapon.  On that occasion too, the German authorities and their partners in the Crown Prosecution Service insisted that they would appeal and continue to seek Dr Toben's extradition, but they quickly abandoned their flimsy case.
The interests of truth and justice – not to mention the interests of the hard-pressed German taxpayer – would be well served if the prosecutors again accepted defeat in Bishop Williamson's case.
Further updates will appear here when a full translation of today's documents has been made.