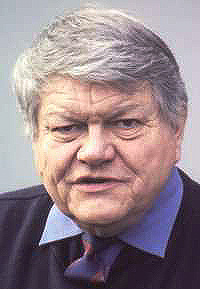 Erik Haaest
In mid-July 2007 the Danish government became the target of a worldwide campaign of orchestrated Jewish outrage, following the revelation in the Danish press that a state grant had been awarded to a revisionist writer.
Erik Haaest received the grants, totalling 100,000 krone, in 2004 and 2006 from the Kunst Raadet or Arts Council, a division of the Danish Ministry of Culture.
He used the funds to assist his research for published work on The Danish Friekorps on the Eastern Front 1941 – 1965.
Mr Haaest's exact position with regard to revisionism is unclear, but he is understood to have described himself as a "Holocaust sceptic" and (like many other informed observers) has denounced the supposed diary of Anne Frank as a forgery.
In a letter to Denmark's Prime Minister Anders Fogh Rasmussen, the Simon Wiesenthal Center's Dr Shimon Samuels produced a typical bombastic barrage:
Your government's award to Haaest violated the commitments of Denmark to the European Commission and to the Organization for Security and Cooperation in Europe.
This act legitimizes the end product of Holocaust denial, incitement to antisemitism and an offense to Holocaust survivors and to the families of all victims of Nazism.
The Simon Wiesenthal Center urges you to immediately withdraw this outrageous award, to investigate its circumstances and publicly dismiss those responsible.
Silence would only be construed by hate mongers as a seal of approval.
Note that an apology would not be enough for Dr Samuels - he wants his pound of flesh in the form of public dismissals.
Will Prime Minister Rasmussen dare to defend academic freedom? Watch this space for further developments!