click here to download BBC interview
with Lady Renouf and Lord Janner
(Radio 4, World at One, 25th February)
Europe's Crooked Commisioner Threatens Bishop
Jacques Barrot, the EU Justice Commissioner, has warned Bishop Richard Williamson that he faces prosecution in many European countries if he repeats his controversial opinions about the alleged Holocaust of European Jews.

Speaking at a meeting of European justice ministers in Brussels last week, M. Barrot said:
"If Bishop Williamson were to repeat his negationist remarks in France, he could be punished under French law."

What £2 million?
European Justice Commission Jacques Barrot protests his innocence.
But just who is Jacques Barrot to be lecturing anyone on history, legality, morality or anything else?

Jacques Barrot was himself convicted by the French courts in 2000 and received an eight-month suspended prison sentence for his involvement in the embezzlement of £2 million in state funds diverted to his political party. The case was part of a major scandal in French politics, but like several others involved M. Barrot escaped scot free under a presidential pardon.

Following this pardon French law - which bars discussion of historical opinions by Bishop Williamson, Robert Faurisson and others - also bars any public reference to M. Barrot's conviction and suspended prison sentence. If I were a French journalist it would be illegal for me to write this article, even though every word of it is true!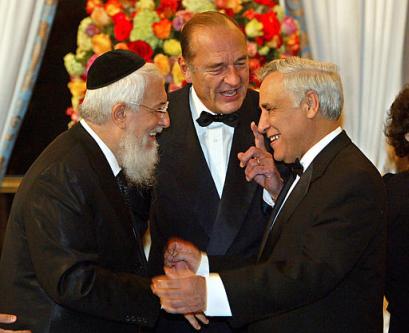 Barrot was pardoned by his close political ally, former French President
Jacques Chirac, seen here (centre) with Joseph Sitruk,
Chief Rabbi of France (left) and Moshe Katsav, President of Israel (right).
Secured by this blanket of censorship, M. Barrot failed to reveal his conviction when he was appointed to the European Commission in 2004. British MEP Nigel Farage raised the issue in the European Parliament and called for M. Barrot's resignation - a call endorsed by Graham Watson, leader of the British Liberal Democrat group in the Parliament. Mr Watson accused M. Barrot of "an unacceptable abuse of trust", adding that the commissioner was "seriously compromised by the revelation of his conviction and suspended jail sentence for conduct that is illegal in many EU member states". Martin Schulz, leader of the Socialist group in the Parliament, also expressed serious concerns.

Needless to say M. Barrot, a close political ally of Jacques Chirac, the French President who pardoned him, never had to explain or apologise, let alone resign. With inimitable Eurocratic irony he was appointed Justice Commissioner last year.
News updates on the Williamson case:
Sunday Telegraph - The downfall of a Bishop
Independent - Germany may arrest Holocaust row bishop
Guardian - Vatican rejects bishop's apology
Sydney Morning Herald - Renouf greets expelled bishop
Press Association - Holocaust-denying bishop 'on way to UK'
BBC - Nazi row bishop leaves Argentina
Boston Globe - Cardinal reaches out to Jewish leaders
European Jewish Press - Jewish group hails Argentina's decision to order expulsion of negationist priest
Algemeiner -
Elie Wiesel attacks Pope over Holocaust bishop
Press TV -
Vatican protests blasphemous Israeli show
European Jewish Press -
Sarkozy: Holocaust-denying bishop comments are "shocking and unacceptable"
Washington Post -
Pope reaches out to Jews
Guardian -
Pope criticises Holocaust denial at meeting with U.S. Jews
Canada Western Catholic Reporter -
Remembering the Holocaust deemed a religious duty
Globe & Mail -
Jewish groups seize chance to press Vatican not to beatify wartime pope