Within hours of Press TV publishing an article about chemical analyses of Auschwitz by the British science historian Dr Nicholas Kollerstrom, an archetypal Zionist swarm had converged on the case. The swarm ranged from the New Statesman website and Jewish Chronicle and Jerusalem Post journalists to a coalition of internet bloggers from the so-called "liberal left", whose overriding interest is to combat what they in fact promote as a rising tide of "anti-semitism".
The limits of their liberalism could swiftly be discerned from their vicious rejection of media pluralism and concerted vilification of an apolitical academic and a fledgling television station whose only crime has been to present a balanced alternative to the stultifyingly uniform London news agenda.
In the vanguard of the swarm is the influential blog Harry's Place, founded by the former Communist Party activist Simon Evans, who is now a Reuters sports journalist based in Miami. A regular Harry's Place writer using the name "David T" concluded that after Press TV published the Kollerstrom article "it is probably time for the British government to take action", including the deportation of Iranians and others involved with Press TV - an entirely legal enterprise - and the extension of financial sanctions to cut off funding for the station.
Though he poses as a liberal leftist, "David T" is a pseudonym for David S. Toube, who used his real name for an article based on his blog that appeared in the 30th May issue of the Jewish Chronicle (though now only on the above Google cache link).
Toube works at the London office of the international law firm Cleary, Gottlieb, Steen & Hamilton. His firm boasts that it "structures and guides the privatization of state-owned enterprises. Our lawyers regularly advise sovereign governments and private sector bidders when state-owned enterprises change hands."
Toube is one of the firm's experts on "anti-money laundering law and practice [who] advises in relation to a broad range of investment banking, fund management, corporate finance and other financial services sector matters." Evans, Toube and their ilk (rather like the Russian oligarchs) have moved seamlessly from ruthless Marxism to rapacious capitalism. One common factor has been their arrogant disdain for the rights of their opponents.
Toube's hysteria was echoed by Martin Bright, the New Statesman's political editor, who led the pack of supposedly liberal, anti-fascist journalists and commentators attacking Press TV for its willingness to examine Dr Kollerstrom's views. Under the rhetorical headline "Why do we tolerate Press TV?" Bright complained that "this western country allows a level of freedom of speech to Press TV which would have it closed down in most countries."
This journalistic intolerance of press freedom might seem peculiar, but Martin Bright is no ordinary journalist.
As political editor of the New Statesman, the longest established journal of centre-left opinion in the English speaking world, Bright led the attack from within the Left's own ranks against London Mayor Ken Livingstone. As the mayoral campaign moved into top gear in January this year, Bright presented a television documentary on Channel 4 which was a sustained vilification of Mayor Livingstone, notably for having dared to invite Egyptian Muslim scholar Yusuf al-Qaradawi to London. In an article for the London Evening Standard published to coincide with the programme, Bright described the Mayor as "a disgrace to his office".
Much of this dates back to disputes within the British Far Left during the 1980s, when a Trotskyist group called Socialist Organiser moved towards a pro-Zionist position, while a rival group called Socialist Action maintained its traditional anti-Zionism. Livingstone's critics (including recent biographer Andrew Hosken) have made much of the prominence of Socialist Action among his circle of advisers, but they are less candid about the role of other relics of the 1980s Far Left in the most vocal sections of the pro-Zionist, pro-war chorus of support for the Blair-Bush axis. Notable alumni of Socialist Organiser include Jane Ashworth, who founded and chaired the pro-war lobby group Labour Friends of Iraq and is Director of Engage, the campaign to overturn the boycott of Israel by university teaching unions. Chairman of Engage is Dr Jon Pike, Socialist Organiser's Oxford University representative during the 1980s. A founding member of Engage - and also a founding signatory of the Euston Manifesto, which brought together the leading lights of this network in 2006 - is Anthony Julius, the senior consultant to the London law firm Mishcon de Reya who represented Deborah Lipstadt in her case against David Irving.

Anthony Julius
the legal face of the Zionist swarm
Another leader of Socialist Organiser was Prof. Robert Fine, a prominent member of the Holocaust Educational Trust, who teaches an MA course on 'Sociology of the Holocaust' at Warwick University and like Ashworth is an advisory editor of the online journal Democratiya. Simon Pottinger, who ran the Socialist Organiser student faction in the 1980s with Ashworth, has been in the forefront of recent campaigns with his former Trotskyist comrade such as "Unite Against Terror", a propaganda operation to label anti-Zionist resistance as mindless terrorist "extremism". The Harry's Place blog was listed alongside Pottinger and Ashworth among the organisers of Unite Against Terror.
Bright's own obsession with attacking Islam long predates his recent campaigns against Ken Livingstone. In December 2001 he wrote a scatological piece headlined "The Great Koran Con Trick" for the New Statesman, alleging that "the Koran as we know it today was compiled, or perhaps even written, long after Mohammad's supposed death in 632AD," and that sceptical views of Islam were silenced in European universities. His theory was publicly rejected even by the very academics he had quoted in the article, including Gerald Hawting of SOAS.

Martin Bright
During the next few years, as leading neocon Michael Gove (ostensibly on the opposite wing of politics from Martin Bright but equally enamoured of Zionism) puts it:
"Martin Bright's unique run of classified 'scoops' on the British State's policy of accommodating Islamist reactionaries at home and abroad has set all kinds of dovecotes a-flutter in Whitehall."
A cynic might wonder whether Mr Bright (perhaps unwittingly) is serving some kind of semi-official agenda by acting as a conduit for leaks which have the effect of demonising any individual or group who refuses to accept the legitimacy of the Zionist entity which has just celebrated its 60th birthday. Such cynicism was fuelled when soon after making a half hour documentary for Channel 4 attacking most leading spokesmen for British Muslims, the self-styled socialist Bright teamed up with the conservative Policy Exchange thinktank in July 2006 to publish When Progressives Treat With Reactionaries: The British state's flirtation with radical Islam.
Bright paid tribute to Dean Godson, the director of Policy Exchange:
"The ideas in this pamphlet have been preying on my mind for too long. I am grateful to everyone at Policy Exchange for enabling me to make them flesh.
"In particular I wish to thank Dean Godson, whose driving energy and immense professionalism kept the project on the rails."

Dean Godson - leading British neocon
from famous CIA family
Dean Godson is one of the leaders of British neo-conservatism, who has openly called on British officialdom to wage an ideological and propaganda war on Zionism's enemies, similar to that waged by MI6 and the CIA against communism during the Cold War. He is well placed to make such comparisons, since his father Joe Godson was an American diplomat in London who handled the CIA's patronage of 'moderates' in the British labour movement, much as his modern equivalents seek to patronise 'moderate' Muslims. Dean's brother Prof. Roy Godson of Georgetown University is president of the U.S. National Strategy Information Center. In 1996 Godson's NSIC issued a report on the Future of US Intelligence, calling for an increased emphasis on "strategic deception". One of the report's co-authors, Abram Shulsky, was then put in charge of the Pentagon's Office of Special Plans, which provided Donald Rumsfeld with intelligence suggesting that Saddam Hussein had weapons of mass destruction and links to Al Qaeda.
Martin Bright and Dean Godson, together with the numerous blogs which echo and amplify their cause, form an apparently diverse coalition which in reality is all too uniform. Notably all charges were dropped against Derek Pasquill, a Foreign Office official who was caught breaking the Official Secrets Act by leaking to Bright. One wonders whether an anti-Zionist public servant would encounter similar lenience in similar circumstances.
Of one thing we can be certain: the coordinated response of this cabal of socialists, conservatives, journalists, lawyers and bloggers indicates the fear pervading a once powerful network perceiving that the logical outcome of the narrative which they have been "creating and controlling" may after all not be on their side.
This fear lies behind the eagerness of the Jewish Chronicle to label all their opponents as "neo-nazis". (NB: the next three links below are to Google cache pages, since the newspaper has now begun to censor its own site to expunge reference to these forbidden topics and proscribed individuals, apparently no longer willing even to allow their own readers to form independent judgments!)
Anticipating criticism the JC very unusually treated its publication of a letter from Lady Renouf as a news item.
The polite response to Lady Renouf came in the following week's JC letters column; but predictably enough a less polite response was also forthcoming from Zionism's militant wing.
On June 20th 2008 it was revealed that Scotland Yard detectives have reopened the murder case of the Bulgarian dissident Georgi Markov, almost thirty years after Mr Markov's death from ricin poisoning. A pellet of ricin, for which there is no known antidote, was injected into Mr Markov's leg using the tip of an umbrella. KGB assassins were widely presumed responsible.

A KGB assassination weapon such as
this was used to fire a ricin pellet into Markov's leg
Even as detectives were working against the clock to beat the thirty year Bulgarian statute of limitations in the Markov case, a death threat was issued on the other side of the world, showing that ricin poisoning remains a potential terror weapon in the post cold war world.
A pro-Israeli website based in Canada published the threat, suggesting that ricin should be sent to the model and actress Lady Renouf following her recent criticisms of Israel in broadcasts to mark the Zionist state's 60th anniversary.
The Toronto based site - www.israpundit.com - attacked the Jewish Chronicle for printing Lady Renouf's letter - or as israpundit.com puts it: UK Leftist Jewish Chronicle Gives Voice to Holocaust Denier!
The article invites readers to send an email of complaint to the JC. A comments section following this request then begins:
"Send her some risen [sic] in a get well card!"
This suggestion comes from a regular poster on israpundit who uses the name yamit82. This is an apparent reference to what israpundit's contributors regard as the treachery of the 1979 treaty between Israel and Egypt following the Camp David Accords. As a result of this treaty part of the Sinai (conquered by Israel during the 1967 war) was handed over to Egypt in 1982 - Yamit was the largest settlement involved. Many settlers resisted the idea and were forcibly evacuated by the Israeli army in April 1982. Hence Yamit is a symbol of the "land for peace" policy.

Ted Belman:
the man behind israpundit.com
The israpundit site is run by Ted Belman, a retired Toronto lawyer who has become a leading defender of Zionism's most aggressive policies, appearing on discussion panels, publishing articles, and forging links with other pro-Zionist websites around the world.
The site is registered to Belman, using the email address tedbel@rogers.com, at 3900 Yonge St, Toronto, ON, M4N 3N6, Canada. Phone: +1 416 483 3497 Fax: +1 630 469 9737
Israpundit.com is hosted on webservers belonging to a Chicago based company called AN Hosting (AN Hosting, Inc., 223 W. Jackson Blvd. #1014, Chicago, IL 60606, USA). AN Hosting's terms of service include the proviso that "we will not provide services to those that are using our services for distributing hate speech, or any other content that is obscene, abusing, which could be considered libelous and defamatory."
Ted Belman is regularly interviewed for web broadcasts on Harold Hoffman's Britannia Radio, a Eurosceptic and pro-Israel site based at Hoffman's accountancy office - Hoffman Accountancy Services, 341A Staines Road, West Ashford, TW15 1RP, 01784 252025
No doubt Belman and his colleagues are currently celebrating Canada's acceptance as a liaison member of the Task Force for International Cooperation on Holocaust Education, Remembrance and Research.
Canadian government spokesman Alykhan Velshi is keen to stress that this "shows a commitment on the part of the government of Canada toward ensuring that the crimes of the Holocaust are not forgotten and are taught widely. ...Canada's seeking membership [in the task force] is part of that same trend, that of a government that is committed to recognizing and commemorating the crimes of the Holocaust as well as combating latter-day instances of anti-Semitism."
Indeed the Canadian government, as Ted Belman would doubtless wish, has fully understood that the importance of the Holocaust has nothing to do with history and everything to do with unquestioning obedience to 21st century Zionism: the 'Holocaust' after all was, as its name implies, a sacrificial burnt offering for Zionism's Covenantal bargain to gain Israel.
The Task Force was launched at the Stockholm International Forum, whose British participants included then Prime Minister Tony Blair's chief fundraiser Lord Levy of Mill Hill.

Tony Blair and Lord Levy
The Stockholm Forum's Declaration in 2000 included the following "guidelines for teaching about the holocaust":
Care must be taken not to give a platform for deniers ...or seek to disprove the deniers' position through normal historical debate and rational argument.
This rejection of rational argument can take many forms. Lady Renouf encountered a relatively civilized version of the phenomenon at a Heythrop College seminar, where one of her philosophy tutors scornfully refused to accept that the notorious legends of Nazi soap and lampshades supposedly made out of Jewish victims are now disregarded by all sides as propaganda lies.
The DVD Jailing Opinions is intended partly as a response to Europe's tragic rejection of its Hellenic heritage of rational enquiry and source scepticism. The same Zionist hatemongers engaged in deliberately turning our educators away from "normal historical debate" are now themselves reduced to issuing terrorist threats while shadowy Jewish Chronicle readers sent this Talmudic light unto the world.
Though the Markov case is the most famous use of a ricin weapon, there have been more recent alarms. In 2002 Kenneth Olson of Washington was sentenced to more than 13 years in prison having been found in possession of ricin, even though he claimed he had no harmful intent and no terrorist or other criminal connections were established.
As a terrorist weapon, ricin hit the headlines in January 2003 when a makeshift laboratory supposedly for manufacturing ricin was found during a police raid in Wood Green, London. A consequent police raid on a property in Manchester led to the murder of Det. Con. Stephen Oake, though no ricin was actually found during this second raid. In fact tests later proved that no ricin had been found at Wood Green either, and the whole ricin plot may have been exaggerated to help bolster the case for the invasion of Iraq.
Ricin was discovered in post sent to Senate majority leader Bill Frist in February 2004, leading to the evacuation of Senate offices and a major terrorist alert. The previous autumn ricin had been discovered in a letter sent to the White House and at a postal office in South Carolina. Those two incidents were supposedly prompted by objections to new federal trucking regulations.

Ricin is so deadly that reports of its presence lead to
raids such as this on a Las Vegas motel room
In February 2008 Roger Von Bergendorff was arrested in a Las Vegas motel room with ricin which he had apparently intended to use as a weapon, but which ended up making him critically ill himself. Von Bergendorff faces a possible 30 year jail sentence in a trial which has been delayed until September. It is not thought that he had any terrorist connection.
Sixty years of war in the Middle East have often spilled over into the streets of London. The latest death threat to Lady Renouf indicated that the Zionist protagonists remain as intransigent as ever.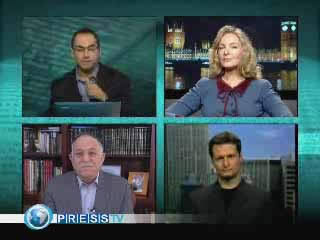 The Fine Print panel discussion on Israel's 60th anniversary which sparked Zionist fury last month.
The full text of Lady Renouf's letter to the Jewish Chronicle (which was published in edited form) was as follows:
By way of correction to David Toube's column in the Jewish Chronicle (30th May 2008) I would like to clarify for the record that I am not and never have been a member or advocate of Mr Nick Griffin's British National Party; on the contrary, I have criticized the Holocaustianity (i.e. faith-based versus forensic-based) ethos of his Party and in consequence, despite having been invited by a member, I was banned from promoting my film "Jailing Opinions" at one of its branch meetings.

Nor am I a member of the literary forum called the New Right, though I have been invited and several times have been delighted to address this cheerful gathering, whose civil audiences welcome widely differing political and religious outlooks, and which could not rationally be described as a "neo-Nazi" group.
I am of course proud to acknowledge my address at the December 2006 Tehran Conference on Review of the Holocaust, which was open to all scholarly sides of debate, as opposed to the recent anti-Revisionism, one-sided, government-sponsored Berlin Conference on revisionists (i.e. those who forensically call into question the scientific impossibility of the "gas chamber" weapon of mass destruction) which shamelessly disallows, against all natural justice, the presence of even a single historical or scientific source-sceptic.
Sad to say the truth is the very reverse of the racist Jewish Chronicle's demonising of Iran as a "vicious authoritarian regime". The fact is that in ten supposedly democratic countries of the "Free World", citizens and even non-citizens (for example, British WW2 historian David Irving) including engineers, chemists, forensic scientists and their lawyers are imprisoned for merely expressing source critical opinions (i.e. historical revisionism, the norm in any other field and teaching guide but specifically not for The Holocaust), or for carrying out field research (normal scientific revisionism). Indeed, Israel has recently banned Professor Norman Finkelstein, the author of the huckster-busting book "The Holocaust Industry", from entry not least because Israel is one of the countries (the nine others are in Europe) in which this Jewish professor, classifiable as a "denier", could embarrass the Jewish state by risking his own prosecution there, for anti-"denial" law means no source scepticism in "whole or part" according to an Israeli-drafted U.N. Resolution. (Look what happened to Vanunu the Israeli nukes whistle-blower who was jailed in that vicious authoritarian entity for eighteen years and still kept unfree to take his leave of Jewish tyranny for warning the world of the rogue state's secret WMD arsenal.)
Even in Voltaire's "Free" France, retired Professor Robert Faurisson is awaiting the outcome of prosecution - devastating fines and possibly long imprisonment - for simply speaking an excerpt from his revisionist paper presented at the Tehran Conference.
It is worth stressing that such prosecutions are brought purely for expressing dissenting views on Holocaust history, regardless of context. Revisionists and their legal advocates are imprisoned without being able to defend the forensic or factual basis of their arguments. This is a strict liability offence which does not require any suggestion that their activities involved "racial hatred" or the like. In Austria, a special ageist law has been drawn up to prevent the veteran Austrian attorney Dr. Herbert Schaller (who, on appeal, successfully defended a British historian against the state prosecutor's wish to extend Irving's incarceration from three to ten years, one for each harmless word he uttered when asked a question sixteen years ago!) from continuing to practice. Dr Schaller is also awaiting the outcome of possible prosecution for outlining the legal position of revisionists in Europe at a conference outside its jurisdiction.
By contrast one can only praise the debate-friendly policy of the admirable Press TV which brings all sides to the table. Thus, praise indeed to the Iranian initiative which beams much longed for democratic balance to the "Free World's" heavily biased public information outlets. For instance, our mainstream media proves its grotesque propaganda bias by regularly substituting with misleading voice-overs, nasty interpretations of fore-shortened and incomplete public statements, from President Ahmadinejad of Iran to the Orthodox Rabbis of the Neturei Karta. Their peaceful solutions are vilified even as each has expressed a reasoned wish to see the Zionist Entity "peacefully dismantled" and erased from the world map like the Soviet Union i.e. the political entity NOT the people!
The facts are that Iran is a peace-loving country in which its Jews are not in any way abused; as opposed to the brutish state policy of a predatory borderless Entity of Israel towards its indigenous, genuinely Semitic and helplessly victimised Arabs. Your newspaper's characteristic demonising of Israel's opponents cannot disguise these facts, nor can it obscure the race supremacist imposture inherent in the Zionist project.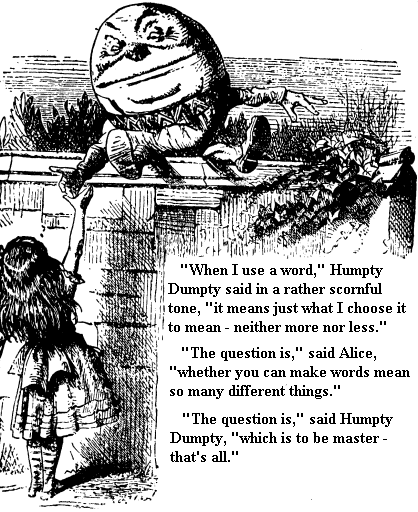 If defending rational source sceptical research on the one hand, and even-handed television reporting on the other, leaves me accused of "forging links" between "neo-Nazis" and "Islamic fundamentalists", then perhaps this reveals more about our Humpty Dumpty democracy and its fraudulent media contrariwise constructs than about my character or conduct.
Yours truly
Michèle, Lady Renouf