Ernst Zündel jailed
Canadian citizen Ernst Zündel was sentenced to five years in a German prison on February 15th 2007.
This savage sentence was imposed for "crimes" which in most of the world would be perfectly legal - namely the expression of unorthodox historical opinions.
As detailed in the new DVD Jailing Opinions, a coordinated move is under way worldwide to extend laws against such scepticism and unorthodoxy.
Ten European countries now have laws specifically forbidding Holocaust revisionism, and the new German government is seeking to extend such laws across the continent.
Nor are traditionally free nations across the Atlantic necessarily safe from the iron hand of historical censorship.
Frank Dinant, executive vice president of the Jewish lobby group B'nai Brith Canada, welcomed the jailing of Ernst Zündel but deplored the fact that Canada itself has no specific anti-revisionist law: "The case of Ernst Zündel demonstrates clearly the strength, determination and resolve of Germany's hate crimes legislation, in stark contrast to our own."
Rabbi Abraham Cooper, associate dean of the Simon Wiesenthal Center in Los Angeles, also exulted at the 67-year-old Zündel's incarceration: "We applaud Germany for aggressively dealing with those who deny history's most documented atrocity."
Rabbi Cooper made clear the political motivation of Zündel's accusers: "The sentencing today of Ernst Zündel also represents a slap in the face to Iranian President Ahmadinejad's hateful campaign of Holocaust denial that unfortunately has generated too much support in the Arab and Muslim world."
Back in Israel the "independent" Hasbara Committee, which claims it was "established to pursue truth about the State of Israel and the Jewish people," celebrated a verdict which "hopefully will silence the mouths of many like him."
By contrast Zündel's lawyer Ludwig Bock pointed out that "what is notable is the iron-hard refusal of the court to allow consideration of new scientific findings or expert opinions."
Bock's objection echoes the concern of liberal journalist Charles Glass, who wrote in the Independent newspaper last November:
One day, will it be illegal to assert (or deny) that the United States committed war crimes in Iraq?

The United Nations General Assembly passed by unanimous consent a resolution on 1 November that "Rejects any denial of the Holocaust as a historic event, either in full or in part". If a historian says - as the leading Holocaust historian of our time, Raul Hilberg, does say - that the number of Jews murdered by the Nazis was 5.2 million rather than the six million, will he be tried before an international tribunal for denying the orthodox version "in part"? Should historic inquiry cease, because the UN and the courts of Austria and Germany have stated their position on the Holocaust? That is no way to suppress fascism. It is fascism.
The last word should go to Ernst Zündel himself, who challenged the court after his sentencing to set up an international and impartial commission of historians to provide "hard facts" and disprove his version of Holocaust history.
If such a commission proved him wrong, Zündel said he would "hold a press conference at which I would publicly apologise to Jews, Israelis and the world".
---
Germar Rudolf' has been given a thirty month jail sentence. For trial reports click here
---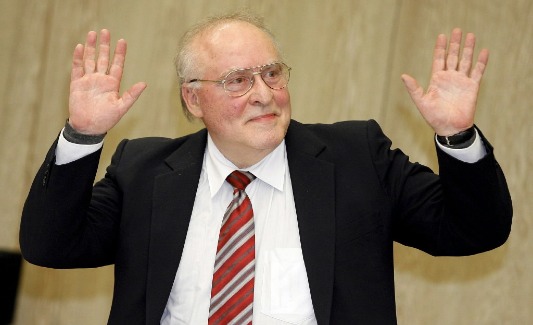 in a letter to his wife dated January 29th Ernst Zündel wrote:
Es geht aufwärts - Things are looking up! That may seem like gallows humour in my situation - a day or two away from being convicted to a prison term worse than violent rapists, dope pushers, and child molesters are given. Ingrid, rest assured - the outcry caused by the severity of the sentence will reverberate around the world and keep this case and the issues NOT dealt with squarely on the table. These people do not understand the dynamics at work. They are, like so many Germans, still victims of their induced-by-indoctrination Weltbild, all the while accusing me and [my attorneys] of the most vile intentions. Sometimes I think I am in a time warp...
---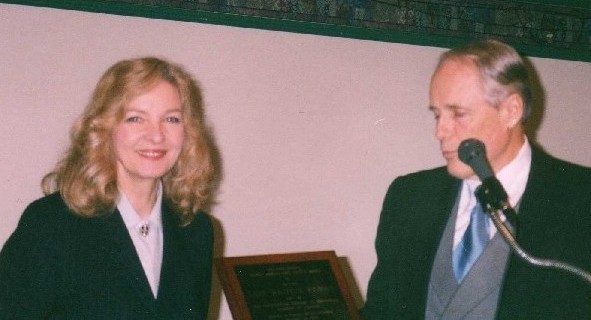 Ernst Zündel's Canadian attorney Douglas Christie presents Lady Michèle Renouf with the 20th annual George Orwell Free Speech Award from the Canadian Free Speech League