Publishers cancel acclaimed book by 'survivors'
Holocaust Fraud Exposed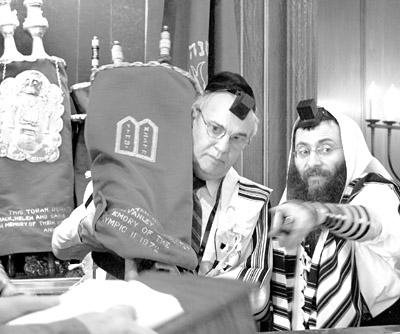 Herman Rosenblat at his bar mitzvah in February 2008
In the mid-1990s the U.S. media began to promote a new and touching tale from the expanding genre of Holocaust memoirs. Herman Rosenblat, 76, was finally bar-mitzvahed at a New York synagogue in February 2008. The world's press eagerly parroted the story of how the young Herman had missed the normal age for this ceremony because he was held in a Nazi camp. While interned he had been given apples across the camp fence by a nine year old girl. In New York fourteen years later he met the girl again and married her.
Rabbi Anchelle Perl told the bar-mitzvah crowd:
We live in a time where we need hope and a positive outlook in life, and Herman's story reminds us that goodness will always overcome badness, and light will overcome darkness.

When you listen to the story of Herman, he was always bar mitzvahed inside and today just brought it out.
Penguin imprint Berkley Books signed up Herman to write his memoirs entitled Angel at the Fence, and the television host Oprah Winfrey, never slow to pay homage at the altar of Holocaustianity, offered the forthcoming tome her lucrative endorsement as the "single greatest love story... we've ever told on the air."
The only problem was that this "story" turned out to be fiction. On Sunday 28th December 2008 Mr. Rosenblat's own agent Andrea Hurst was obliged to issue the following statement:
It is with heavy heart that I share what I learned today from my client, Herman Rosenblat, about his book, 'Angel at the Fence.' Herman revealed to me that part of his memoir was not true. He'd invented the crux of this amazing love story–about the girl at the fence who threw him an apple–which drew my attention when I read it in a major magazine [Guideposts] two years ago. All of the story about Herman in the concentration camps and the love and survival of him and his brothers, he states is true. I understand why Berkley has chosen to withdraw publication of this book. Like millions of others who read this story or saw Herman and Roma on Oprah, I never for a moment questioned the authenticity of the widely circulated story. I know that everyone who has worked so hard with Herman this past year is as stunned and disappointed as I am that this story of hope has such a sad ending.
Mr. Rosenblat himself added an attempted explanation for his deceit:
Why did I do that and write the story with the girl and the apple, because I wanted to bring happiness to people, to remind them not to hate, but to love and tolerate all people. I brought good feelings to a lot of people and I brought hope to many. My motivation was to make good in this world.
There will no doubt be many analyses of Mr. Rosenblat's lies, and many attempts to excuse him by apologists like Ms. Hurst, maintaining that most of his story was true.
For the moment we should concentrate on the crucial two paragraphs in Mr. Rosenblat's original article, now admitted as mendacious:
We were at Theresienstadt for three months. The war was winding down and Allied forces were closing in, yet my fate seemed sealed. On May 10, 1945, I was scheduled to die in the gas chamber at 10:00 A.M. In the quiet of dawn, I tried to prepare myself. So many times death seemed ready to claim me, but somehow I'd survived. Now, it was over. I thought of my parents. At least, I thought, we will be reunited.

At 8:00 A.M., there was a commotion. I heard shouts, and saw people running every which way through camp. I caught up with my brothers. Russian troops had liberated the camp! The gates swung open. Everyone was running, so I did too. Amazingly, all of my brothers had survived; I'm not sure how. But I knew that the girl with the apples had been the key to my survival. In a place where evil seemed triumphant, one person's goodness had saved my life, had given me hope in a place where there was none. My mother had promised to send me an angel, and the angel had come.
If Mr. Rosenblat's gas chamber fable is a lie, how many other such stories are lies?
Teaching in British schools - and the criminal law across much of Europe - is based on the principles recently distilled by the United Nations and the Stockholm International Conference. The alleged historical facts of the Holocaust must not be denied, in whole or in part; and in the words of the recent teaching guidelines issued to British schools:
Care must be taken not to give a platform for deniers - do not treat the denial of the Holocaust as a legitimate historical argument, or seek to disprove the deniers' position through normal historical debate and rational argument.
The Rosenblat case proves that such European laws, United Nations resolutions, conference declarations and official teaching guidelines must be defied by all who value the virtues of academic honesty and rigorous scholarship which underpin our civilisation.
In the light of Rosenblat's admissions, Europe's legislators, educators and bureaucrats should be asked to think again, without preconceptions and without the fear of legal sanctions, about the defining events of the 20th century.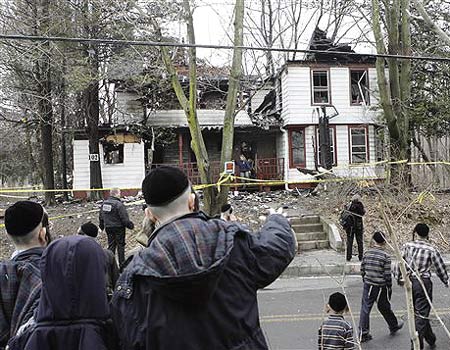 Neturei Karta attacked
arson destroys dissident Jews' HQ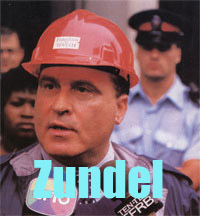 Ernst Zündel - five year jail sentence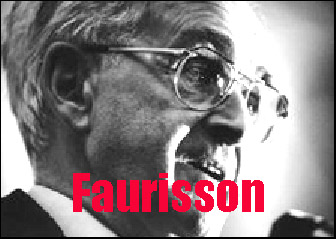 Robert Faurisson - new translation of Tehran interview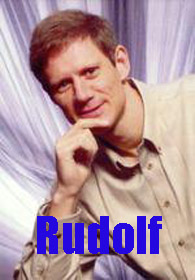 Germar Rudolf - 30 month jail sentence

David Irving - speech to Oxford Union breaks anti-revisionist taboo
---
The background to the worldwide persecution of Holocaust revisionists is examined in Lady Renouf's new DVD Jailing Opinions, reviewed here.
---
Further information about Ernst Zündel's battle for truth and justice can be found at the Zündelsite
---